Summer is still here and we are all hoping for fall to be here soon to relieve us from this Southern heat. As of September 2nd we have had 76 days of 90 degree plus days and just 15 away from the record of 90 set in 1980 and 2011. Turf, flowers, shrubs, trees and all of us are looking for some relief.
With the Summer heat and our past mild winter we have seen insect populations explode. Our Horticultural Services Teams has worked extremely hard this year controlling and minimizing insect damage.
Army Worms are here. The first wave of Army Worms have invaded some of our turf grasses and we are expecting a second instar in 1-2 more weeks. Reports have been circulating of crops and fields being attacked from Alabama to Georgia this week. A true indicator of the population size is all the moths that are present right now at dusk each day. Those moths are laying eggs and caterpillars pupate 2 weeks later. Army worms can decimate a lawn in 24-72 hours. Our Managers and Crews are on the lookout each day and if we see an outbreak we can treat immediately. If you see your lawns turning brown or not looking right please call your Gibbs manager ASAP.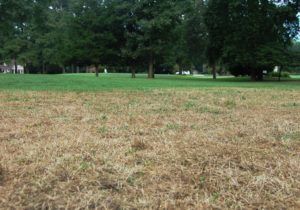 I want to take the opportunity now and encourage everyone to be mindful of any standing or collecting of water on their property and/or in the neighborhood. Zika virus is in the news daily and could become a real threat here in Atlanta. There are two species of mosquitos that can carry and transmit the virus. Aedes aegypti and Aedes albopictus. Ae. aegypti has been found in Columbus GA, luckily without the virus. These two species of mosquitos are aggressive daytime biters, but can also bite at night. Removal of bowls and buckets in the landscape is a start. Be aware of other areas, AC condensate lines create damp areas around AC units. Gutter spout areas, make sure there is positive drain flow. Large areas of English Ivy can harbor lots of dampness. Drainage and catch basins collect water, these are all mosquito breeding areas.
Fescue lawns will be replenished with fescue seed this month. We may delay a week due to hot temperatures. Aeration, seeding and fertilizing the Fescue lawns will take place by our Horticultural Services Team and continue through October. Irrigation systems will need to be in top working condition to provide full coverage of water to the lawns to germinate the seed. We will be lowering the Fescue lawns prior to the seeding and after seeding we will not mow for 4-6 weeks. The lawn will get tall but will be necessary to allow for the new seed to germinate. Please bear with us. Irrigation run times and days to be watered will be set by Gibbs to ensure proper germination. The goal is to keep the turf evenly moist and that typically requires daily watering of the turf for the first 2-3 weeks. Our grass seed as always is a three seed fescue blend, blue tag certified and delivered straight from the turf field plots in Oregon. Growing grass from seed is a delicate and necessary task and will be our only chance to replenish the lawns with new seed over this 1-2 month window.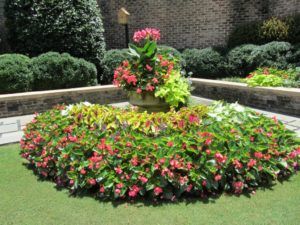 Besides being grass farmers this month the crews are working on deadheading and cleaning perennial beds and plants. This is the last month for summer annuals. Our summer annuals have endured a hot summer and some of the annuals like Begonias and Salvias are "tired" out. Expect Begonias and other annuals to start to shut down early due to the duration of the heat we have had. Fall annuals will be scheduled for October. Hydrangeas will be deadheaded after their blooms have become undesirable. Knock out roses will continue to bloom through September but this is typically their last blooming cycle.
School is back in session and we want all of you to know that we go through great links to ensure that our drivers are safe on the roads and at your properties. We submit driving tests to all of our drivers, road and written tests and complete point inspections of our trucks and equipment daily.
As always, thank you so much for allowing us the privilege to serve you.
Peter Copses
Vice President
As winners of over 275 awards, Gibbs Landscape Company offers a proven track record of creative, quality landscape design and maintenance. Our team of highly trained, qualified Landscape Architects and horticulturalist can design and maintain a landscape that will add value to your property for years to come. You deserve the best in landscape design/build and maintenance…you deserve Gibbs Landscape Company.

Be sure to follow us on Facebook to discover more great landscape tips & photos!