As spring approaches and trees begin to leaf out, is your shady landscape looking lackluster? Or, maybe where once you had sun, trees have matured and now you have shade. With the right plants and a creative design, shade can be an asset and your garden an oasis, on those hot summer days we experience in Georgia. This can be accomplished by including a variety of plants with interesting textures, colorful foliage and even blooms!
Pair Foliage and Flowers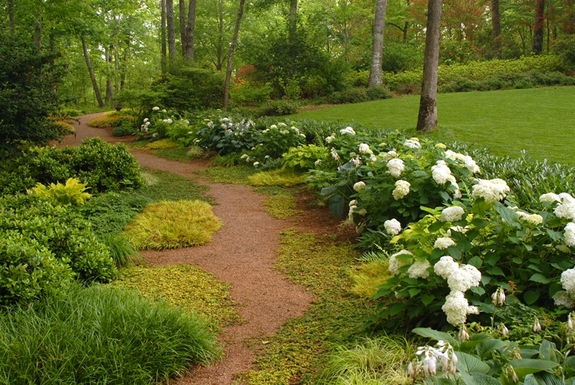 When you select a shrub for screening or an evergreen backdrop, think about what you will pair it with. The tough yet elegant Florida Leucothoe,Agarista populifolia, is ideal for screening unsightly views and has a graceful fountain shape. By planting a small Japanese maple in front of the Leucothoe and adding a landscape boulder, you have created a lovely scene that offers interest for months. A clump of iris adds colorful flowers and a vertical accent even after it blooms. Another plant that makes a good companion for Florida Leucothoe is the oakleaf hydrangea, Hydrangea quercifolia. The white flowers open in early summer and last for weeks. The ornamental bark, dark brown to cinnamon, looks good year around. And, you don't have to prune this hydrangea unless it gets too big for the spot you have it growing in.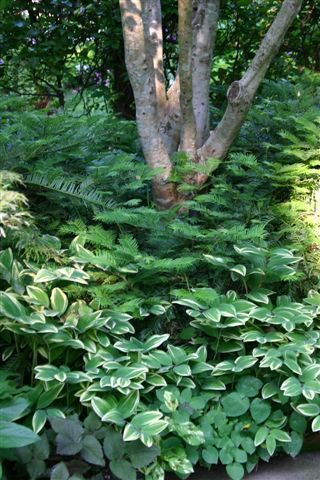 Small anise tree, Illicium parviflorum, provides bold foliage and grows in sun or shade. With a span of 8 to 10 ft. high and wide, Anise is perfect for an evergreen screen or an informal hedge. It provides the perfect backdrop for shrubs like Annabelle hydrangeas, which bloom in June with large white delicate blooms (4 to 6 inches across and up to 12 inches in diameter). This hydrangea produces flower buds on current season's growth so each year you should get an abundance of flowers, provided you provide a moist, fertile soil and regular fertilization.

For summer color that persists for months, Variegated Solomon's Seal, Polygonatum odoratum 'Variegatum,' brightens even the darkest corner with its variegated foliage (leaves up to 6 inches long), soft green leaves edged in creamy white. This perennial will grow in shade or part sun. Other blooming perennials that are happy in the shade include Fringed Bleeding Heart, Dicentra 'Luxuriant'. With its cherry-red flowers and blue-green delicate looking foliage, this is a good performer.
Right Plant, Right Place
For a foundation planting that won't require constant pruning to keep it in check,
Japanese plum yew, Cephalotaxus harringtonia 'Prostrata,' offers dark green needled foliage. This shrub grows 1 and ½ to 2 feet high and 4 to 5 feet wide, ideal for in front of windows. For a contrast, add some autumn fern and you have an elegant duo that won't threaten to obscure your view (from inside your home looking out to your landscape). For even more color, add Hellebores and early daffodils.
Go Vertical
Whether you train them to frame your front door, or cover an arbor that welcomes visitors to your garden, vines will add vertical interest. There are a number of evergreen vines that thrive in the shade including Carolina Jessamine, Gelsemium sempervirens, with glowing yellow flowers in spring and Confederate jasmine, Trachelospermum jasminoides 'Madison,' also blooming in spring but with white fragrant flowers.
For more ideas on how to transform your shade garden, contact Gibbs Landscape Company and one of our award winning landscape architects would be happy to assist you.