Fall is just around the corner and we have already felt a slight change in the weather with cooler mornings and a brief relief from the heat. Fescue lawns will be replenished with fescue seed this month beginning in September and continuing into October. Aeration, seeding and fertilizing the Fescue lawns will take place by our Horticultural Services Division. Irrigation systems will need to be in top working condition to provide full coverage of water to the lawns to germinate the seed. We will be lowering the Fescue lawns prior to the seeding and after seeding Fescue lawns will not be mowed for 4-6 weeks. The fescue will get tall as we allow the new seed to germinate and grow in before we make our first cut. Irrigation run times and days to be watered will be set by Gibbs Team Managers. The goal is to keep the turf evenly moist and that typically requires daily watering of the turf for the first 2-3 weeks. Our grass seed as always is a three seed fescue blend, blue tag certified (99.99% weed free) and delivered straight from the turf field plots in Oregon. Growing grass from seed is a delicate and necessary task and will be our only chance to replenish the lawns with new seed over this 1-2 month window.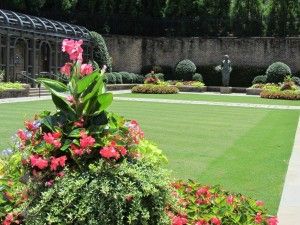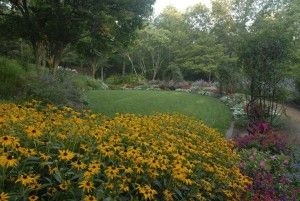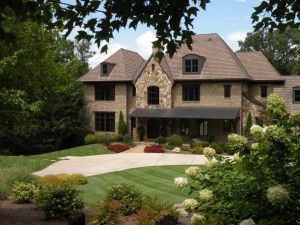 Besides being grass farmers this month the crews are working on deadheading and cleaning perennial beds and plants. A great deal of perennials are being cut back to the ground leaving foliage exposed at the soil line. This is the last month for summer annuals. Hydrangeas will be deadheaded after their spent blooms have become undesirable. Knock out roses will continue to bloom through September but this is typically their last blooming cycle. Some annuals have started to depart and will need to be removed. Fall annuals will be scheduled for October.
Turf diseases and insects will continually be monitored. Brown patch fungus on fescue will be subsiding as we see cooler and less humid days and nights. Grub worms and Army worms have been found just recently but very isolated and extremely small populations. We could be on the cusp for a breakout of Army worms and the crews and managers are well aware and on the lookout. Army worms can decimate a lawn in 24-72 hours. We are armed with a very special environmentally friendly insecticide that will target the Army worms and Grubs and not affect other beneficial insects.
School is back in session and we want all of you to know that we go through great lengths to ensure that our drivers are safe on the roads and at your properties. We submit driving tests to all of our drivers, road and written tests and complete point inspections of our trucks and equipment daily.
If you are interested in our award winning services please call us at 770-432-7761 or fill out request a quote section of webpage.