March 2016
Spring has appeared to arrive a bit early as seen this past weekend. Mountain biking this weekend along the Chattahoochee trails Trillium and Native Buckeyes are sprouting from the forest floor. You may notice in your gardens that Peonies and Clematis vines are up 4-6 inches. Spring looks like it is here but Atlanta's last frost day on average is April 15th. I am sure we may have some more hard freezes coming in the next 30-45 days. Please search around or talk to us about covering and protecting plant growth. Bed sheets, burlap and frost cloth all work well to protect plants from freezing temperatures.
Daffodils are amazing this year and as always we think they are a great addition to any garden. The daffodils started blooming the last week of February and will continue to bloom all month long. The tulips that were planted in November and December should be on full display in the next 3-4 weeks. Pansy and viola beds have finally had some good consistent sunlight and are looking better and better each day. Weather has played a large role in their inconsistent look this year.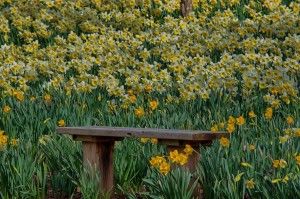 Insects and disease activity is just around the corner. Our dormant oil applications are in full swing and our slow release fertilizer with pre-emergent have gone down in all beds. For ultimate protection on Boxwoods and other difficult plant species we recommend a deep root soil injection. This is performed by inserting a wand into the critical root zone of the plant's or tree's roots and triggering the solution of 4-6 month insecticide, fungicide, fertilizer and micro nutrients to be translocated throughout the entire plant from the root system. This application ultimately protects the plant for 4-6 months. This is a super application for Boxwoods to ward off Boxwood leaf miner and prevention of Aphids on Crape Myrtles.
Turf treatments are underway and all turf either warm season or cool season are receiving pre emergent and slow release fertilizer. All rounds are liquid applications and will continue through April. We are on the lookout for Yellow Patch fungus in Fescue and can treat as needed with a fungicide. Warm season turf will start to green slowly and with the turf coming out of dormancy we must be mindful that the turf is in a weak state and very vulnerable to fungus. Spring and fall are both tough times for warm season grasses, especially Zoysias. We will be monitoring the turf for Rhizoctonia fungus and will recommend a preventative fungicide if you lawn has had the fungus patch in the past. Later this month and into the first of April we will be lowering or scalping the warm season turf to remove any old grass layers and encourage the turf to grow in full and evenly.
This is a great time to be installing shrubs and trees to your garden. Temperatures are ideal and plants and trees are still in their dormant phase. Installing now gets the plants off to a great start.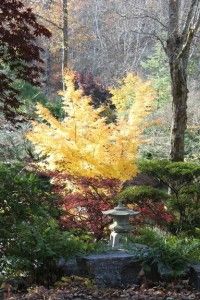 Our Irrigation techs are out evaluating systems and getting them ready for use. Irrigation technology is at its height and this year we will be offering irrigation technology that you will be able to operate you clock from your smart phone. Irrigation clocks will now be able to be inserted with a sim card and operate off satellite weather stations unique to your zip code. Monitoring your system from your smart phone or our manager's phone saves us all time and most importantly WATER!
Thank you so much for your continued business and allowing us to maintain your gardens every week. It is our pleasure to manage your landscape during this busy time of the year.
Peter J. Copses
Vice President
Be sure to follow us on Facebook to discover more great landscape ideas!